History
Prior to 1885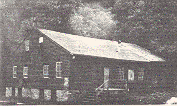 "The journey of faith began for the people of Glenshaw Presbyterian Church in the humble surroundings of a sickle factory." – from the forward of "Glenshaw Presbyterian
Church, 1885-1985," by Rev. William J. Maloney.
In March 1879, it was thought best to meet together and form a Sabbath School and have religious services Sabbath afternoon. What was known as Shaw's Sickle Factory was secured as a place of meeting. Interest and attendance increased. The organization formed was named the "Glenshaw Mission Society". Ministers of the city conducted services.
---
Rev. Joseph B. Turner (1886-1892)


It was decided to form a Presbyterian Church in April 1885 and, in May 1885, the Glenshaw Presbyterian Church was officially organized with a membership of 35. Rev. Turner was installed as pastor in September 1886.
In April 1887, it was decided to build a new church. There were 93 members at the time. Dedication services for the new church were conducted in March 1888.
---
Rev. T. R. Currie (1893-1897)

In February 1893, a pastoral call was made to Rev. T. R. Currie to replace Rev. Turner, who had received a pastoral call from Altoona.
In December 1893, five women were appointed as a committee to attend to the wants of the poor. Their funds of $13.50 were from the Thanksgiving collection. By 1895, there were 185 members. Preaching services were held mornings and evenings of every Sabbath. Collections for the year were $1,195 and they had to borrow $500 from the Savings and Loan to meet expenditures.
---
Rev. William F. Plummer (1898-1910)

"All branches of church work seem to be going on satisfactorily and give evidence that God is surely blessing his vineyard here. As He has done for twenty years from last month (1879) when mission work was commenced and continued without interruption to the present. May He continue to do so." – Rev. Plummer, April 1899.
The annual report to Presbytery in April 1899 showed the congregation making $441.22 in contributions to various mission projects. The congregation was especially proud to have increased its membership to 220 people in 1906. Also in that year, the trustees were instructed to purchase a pipe organ and music became an important part of the church's life. An organist was hired and paid a yearly salary of $52.
A motion to increase the pastor's salary was defeated in 1909. Session felt that his salary of $1,300 per year was more than adequate. Session was willing, though, to authorize the purchase of a horse and shed for $220.
---
Rev. H. Vernon Baker (1911-1917)

During this time, the Sunday school flourished, there was emphasis on music, and midweek prayer meetings were introduced (attended mostly by women). The Session took action concerning community activities running counter to church teachings. In 1914, there was a motion to have Sunday work on the state road stopped. The Ice Cream Parlor of the Village, open for business on Sundays, caused the appointment of a Session committee in July 1918, which made a number of unsuccessful attempts to deal with this violation.
Rev. Baker served the congregation for six years, leaving in 1917 to enter the armed services as a chaplain.
---
Rev. U. W. MacMillan (1918-1923)
Rev. MacMillan came in 1918 at a yearly salary of $1,800 with one month's vacation. The standing committees in the church were: Spiritual Aims, Home and Family, Educational Matters, Social Problems, Community Affairs, Church and Politics, and Finance.
The drive for national prohibition of all liquor sales reached a climax in this period with the 1921 passage of the 18th Amendment.
Rev. MacMillan was plagued with continuing ill health during much of his tenure with this church.
---
Rev. Robert S. Young (1923-1937)

Membership had grown to 406 persons by 1925 and it was proposed that a new building be erected. By 1926, the five-acre plot on which our present church sits was purchased for $23,750. Also, $95,650 was pledged for this church building; cost to build was $184,000.
In January 1928, a meeting of the congregation was called to take action regarding our previous church property on Butler Plank Road, to authorize trustees to secure loans, and to secure such loans through the mortgaging of the real estate of the congregation. Thirty-eight families pledged their homes that this church might be built. The sanctuary of the new church was used for the first time on April 22, 1929 with 500 persons present.
The church roll in 1935 showed 559 members. This was the time of the "Great Depression" which meant retrenchment, frugality and consolidation. Cash was scarce, the building debt was large and, in 1936, the membership declined by 99 members. The highlight of 1935 was the celebration of the Golden Anniversary of the church.
---
Rev. Merle Reade Swihart (1938-1957)

By 1941, church membership had increased to 644 and Sunday school enrollment was 439. Wartime auxiliary efforts pervaded the church program: support was given to the Red Cross and USO; the church was designated as an air raid shelter; and testaments, diaries, recreational reading and CARE packages were sent to armed services personnel.
A long time pastoral relationship was initiated on October 1, 1943 when the Rev. Clifford E. Davis was called to be a part-time Associate Pastor, effective December 1 of that year. Rev. Davis accepted this call for the expressed purpose of establishing a Psychological Clinic and Vocational Counseling Center as part of the church program. Rev. Davis became full-time Associate Pastor in November 1944 and this situation continued until 1957, when he accepted a position on the professional staff of the National Board of Christian Education. Although his expanded duties involved considerable travel and time away from Glenshaw, he continued until his death in 1969 to make his psychological and vocational counseling services available to the members of this church.
In 1946, the bell presently used in our church was found in an abandoned Methodist-Episcopal Church on Whig Hill, Tionesta, Pennsylvania. These few sentences do not do justice to the hard work required to install it in our tower. In June 1946, Rev. Swihart, Matt Gardner and Paul Leckey removed the bell from the church in Tionesta and transported it to Glenshaw Presbyterian Church. A rope wheel had to be fabricated to enable the bell to ring in our tower, the bell was bolted to channel beams on the floor of the tower, and a steel pipe offset bend was fabricated to pull the rope and ring the bell from the back of the balcony. This entire project was completed in time for the Christmas Service in 1946. Our church bell was originally installed and dedicated in the Whig Hill Methodist-Episcopal Church on September 1, 1895.
By December 31, 1947, membership had increased to 1,209. In 1953, an eight page report titled "The Present State of the Glenshaw Church" was presented by Rev. Swihart. Among other items, he stated that our members could, as a whole, double their giving, and that annual receipts should be at least $150,000 a year, instead of $75,000. He suggested a great educational program. 589 children were registered in our church school. The Christian Education Committee recommended that a Director of Religious Education be employed and in 1954, Miss Sally Spahr was called to be our Director of Christian Education. The building committee was authorized to proceed with studies and cost estimates of a Christian Education building. In 1955, we celebrated the dedication of our new Christian Education Building.
In September 1956, Rev. Swihart was taken ill while on vacation and in January 1957, his pastoral relationship with our church was dissolved.
---
Dr. G. Mason Cochran (1957-1970)

In September 1957, Dr. Cochran was installed as pastor. In February 1958, the Session was informed by the fire marshal that we could no longer set chairs in the aisles for overflow crowds at special services. A public address system was installed to accommodate seating in the Ladies Parlor.
A new concept in the training and education of our youth was instituted in 1960 with the formation of the Youth Club with 179 people participating. Many parents were involved in this program.
At the 1962 annual meeting of the congregation, Dr. Cochran called upon Glenshaw Presbyterian Church members to constantly show their concern for others, and for love and fellowship within the community, repeatedly stressing the need of a program of evangelism and Christian outreach in our community.
In 1964, the membership grew to a high of 1,804. During the mid to late 60's, the Mariners, the Retired Men's Club, Coffee and Conversation, "Bringing in Christmas" and "Figgie Pudding Sunday" were started.
In January 1965, a Capital Improvements Committee was named and authorized to borrow up to $125,000 for a major renovation program and work on a lengthy list of deferred maintenance and improvement items that needed attention. Simultaneously, a program was begun to finance currently as much of the expense as possible. Pledges were received, but our bank indebtedness continued to climb, therefore a concerted effort was made to eliminate the debt by setting up the "Brick Fund" campaign with bricks to be purchased for a dollar each, cash or pledge. In January 1975, the final payment on the debt was made.
During the same 10-year period (1965-1975), the congregation, although struggling to maintain the programs and property, and to pay off the bank loan, gave $346,874 to benevolent causes. During that same period, the Women's Association disbursed $56,589 to mission causes, collected and sent clothing, blankets and gifts to numerous missions in the U.S. and abroad.
Three times during this period (1965-1974), the session thoroughly reviewed our church roll in an attempt to reflect more accurately the active membership of this congregation. As a result, many people reactivated themselves within our own church, some requested and received letters of transfer to other churches and 395 persons were transferred to an inactive roll or were removed.
---
Dr. Gordon E. Boak (1970-1982)
After Dr. Cochran retired in 1970, Dr. Boak was called to become our pastor and his installation service took place on December 27, 1970.
The "Quill and Scroll" monthly newsletter (now called "Spirit of the Glen" was initiated in 1971. Although the "Glenshaw Church Fund – A Trust" did not officially come into existence until January 1976, it had its true beginning in 1972 when a bequest of $1,000, received from an estate, was invested.
That same year, 29 members of the Senior High Fellowship, together with five adult advisors, spent the week of Easter Break in Wilkes-Barre helping clean up mud and debris and doing general rehabilitation following Hurricane Agnes.
During 1974, the Rev. Richard Vogeley was called to be our full time assistant pastor to work with the youth ministry, the pastoral ministry, as well as the Christian Education Department. We established the blood bank under the direction of Mary Jane Peterson and in 1975, through the devoted efforts of Dorothy Baker, our church library was organized and designated a Memorial Library in memory of the ministers who had served the congregation.
The end of an era came in 1975 when Frank Kennedy retired as organist and choir director. Frank had served in that capacity since 1928. Howard Moser was chosen to succeed him. Seed money was given to purchase handbells. Howard Moser started two handbell choirs in 1977, one for adults and one for youth in junior and senior high school.
In 1977, the Bethel Bible series was introduced to the congregation. Rev. Carolyn Jones became the first female minister to be called by our church, replacing Rev. Vogeley, who was called to a church in Minnesota.
Five churches in the area, including ours, cooperated in the Refugee Resettlement Program to bring a Vietnamese family here. That family of four arrived in 1980.
A new ministry began in 1982 when the Deacons, Rev. Carolyn Jones, and Mary Jane Peterson worked together to develop the "Friends Who Care" program. Mary Jane became coordinator of this program that was designed to help the bereaved in our church and community by catering funeral luncheons and providing monthly luncheon meetings and programs for those who are in need of support during their time of need.
Rev. Jones saw the need for a child care facility. In 1980, we opened a much needed Child Care Center under the direction of Yvonne Johnson.
In 1982, Dr. Boak retired and Rev. Carolyn Jones became our interim pastor.
---
Rev. William J. Maloney (1983-1998)


Rev. William J. Maloney was installed as our pastor on February 16, 1983. How best do we characterize these almost 16 years under his leadership? Perhaps Rev. Pam Maloney said it best when she stated in her final annual report to the congregation, "Our years in Glenshaw have seen new forms of mission being undertaken, God-given growth in the children's and youth programs, new Bible studies launched, fellowship activities enjoyed, faith deepened."
In 1983, Dr. Gary Cecil was called as Assistant Minister and the Rev. Pamela-Rae Maloney was hired part time to support our Christian Education program.
In 1985, we celebrated our 100th anniversary. Chemical abuse workshops were initiated for sixth and seventh grade children and their parents.
1986 was the year of the flash floods in Etna and we received recognition for the work that we did in the midst of those floods. We fed 1,500 people per day, we were the center for the Red Cross efforts, and we were the distribution point for clothing and cleaning supplies. A Communion workshop for children in grades 1-3 and their parents was designed. A concerted effort was made to integrate the newly confirmed young people into the life of the church. The men's breakfast served 90 that year.
In 1987, the youth of our church provided financial support to a seven-year-old, Soneka, from India. The Visual Commitment Fund was started with a goal of $250,000. The fund was designed to provide for a wide range of capital improvements and maintenance projects and concluded later in 1990 with contributions reaching over $235,000.
The youth, as part of their mission effort in 1989, traveled to Braddock and worked there as part of the Habitat for Humanity program. In subsequent years, the youth have traveled to numerous locations to help those in need (West Philadelphia, Northern New York, Colorado, Westminster College, and Camp Crestfield). In 1998, 15 youth and 8 adults traveled to Grand Forks, North Dakota to help rebuild homes and lives devastated by a major flood. KDKA-TV filmed the group when they left and when they returned.
In December 1990, the congregation voted to amend our church's Trust Agreement, authorizing the appointment of a professional advisor to manage the investment.  A formula was provided to establish the amount of income that would be distributed to the church operating account each year and a Maintenance Budget Account was established for the specific purpose of maintaining, repairing, improving and/or restoring the physical assets of the church. Rev. Pam Maloney became our Choir Director and Organist and also assumed responsibility for other pastoral functions. Also in 1990, the Kids Kluster program, a weekly afterschool music and Christian Education program for children in first to fifth grades, was started.
In September 1991. we initiated two worship services on Sundays. Rev. Bill Maloney was teaching the "Discover the Bible" series on Wednesdays and Sundays in 1992. 1995 was the "Year of the Bible" – this program gave all of us the opportunity to read through the entire Bible together. 90 people attended the 50-year member dinner.
The Handicapped ramp was built in 1996. Since that time, bathrooms on the main floor and basement have been made handicapped accessible. Because we are a community church, we decided to provide space in our church for the YMCA Before/After school program for latchkey children and to the Greater Pittsburgh Literacy Council.
Mission Fairs were introduced whereby members of the congregation had the opportunity to pick up literature and talk with representatives from charitable organizations served by our benevolence budget. In the area of mission, it is important to note there are many, many members of our congregation who give their time and talents to charitable organizations. We must also mention here the efforts of two of our "Volunteers in Mission" – Ruth Marlin and Dr. Robert Ford. Ruth served in Malawi in 1987, in New Mexico on a Navajo reservation in 1989-1990, and in Somalia in 1992. Bob made his first trip to Nigeria in 1990 with his medical team and has made over eight medical mission trips since then.
On November 8, 1998, the congregation approved the request of Rev. William J. Maloney to dissolve the pastoral relationship, effective December 31, 1998. Also, on that date, the congregation approved changes in the terms of call for Rev. Pam Maloney from full time Associate Pastor and Minister of Music to part time Minister of Music until June 30, 1999.
---
Interim Period (1999-2001)
During the period between when the Maloneys left and Dr. Hoyt came in 2001, our church was led by two very devoted interim pastors. From February 1999 through September 2000, we were led by Rev. Thomas Menk, and after that we were led by Dr. Bruce Bryce. Under their leadership, our church continued to fulfill its basic mission, while making important changes for the future.
Some of those changes were:
the reorganization of our separate boards of Session and Trustees into a single unified governing body, with a stronger emphasis on work being done at the committee level and with the assistance of members-at-large.
the long-overdue updating of committee descriptions, staff position descriptions, and church administrative policies.
the hiring of two Music Directors: Rachel Spry, who served from June 1999 to June 2000, and Howard Moser, who has returned to the position after over ten years.
the hiring of two part-time Youth Coordinators to assist our volunteer youth leaders: Jay Smith, who served until mid-2000, and Heather Tabor, who served until mid-2002.
the purchasing of new pew cushions, choir and podium microphones, choir robes, and many other physical plant maintenance items.
---
Rev. Dr. Michael J. Hoyt (2001-2012)

During the 11 years that Mike Hoyt served as our pastor, GPC saw the creation of some unique activities and programs. Undoubtedly the most significant one was the creation of the Welcoming Church Campaign whereby funds were raised to support the renovation of the narthex, the repainting of the sanctuary, and various other projects. The enlarged narthex and handicap ramps will be dedicated on May 27, 2012. With these two new ramps, it is now possible to get from one end of the building to the other without having to climb stairs. A few of the pews were removed at the rear of the sanctuary to make space for the renovation.
The Hospitality Ministry was also formed as a result of Pastor Mike's leadership. One of the purposes of this ministry is to seek out visitors and to invite them to informal dessert meetings at the homes of the Ministry. At these dessert meetings, Pastor Mike and the ministry members would tell the visitors about our church and to invite them to become members. In the fall of 2011, this ministry was also asked to arrange for the creation of an up-to-date pictorial directory. Pictures will be taken in late May 2012 for inclusion in a new directory which will be published in the fall.
Lemonade Socials were well received throughout Rev. Mike's tenure. Rain or shine, after the services during the summer months, different committees and ministries were responsible for light refreshments and lemonade following the 10:00 service. We found this a great way to know each other better, particularly since there was just one service during the summer. Those who attended the 8:30 service and those who attended the 11:00 service from September through May had an opportunity to worship together.
LOGOS was another new program that was spearheaded by Pastor Mike. It was held every Wednesday after school during the school year. Children from 5 years up through high school came for creative ways to learn more about the Bible, as well as to participate in the children's singing and handbell choirs. These events were followed by a dinner that was prepared by several church members.
The Children and Worship program began early on in Rev. Mike's tenure. After his time with the children in the front of the sanctuary each Sunday, the children were dismissed with adults to attend a special program located in one of the upstairs rooms.
Also during this period, adult mission trips were introduced. A group of adults and some of our youth participated in the mission trips to Mars Hills, North Carolina in 2010 and 2011. While it was very much appreciated by those who were helped, it was also very rewarding for all those who participated.
At Mike's urging, Glenshaw Presbyterian Church, along with several other local Presbyterian churches, continues to provide support to Calvert Memorial Presbyterian Church in Etna. Calvert Church had been experiencing a decline in membership and was in great need of financial help, as well as helping hands. Many people from GPC participated in many ways, one of which was helping with the Bread of Life Food Pantry located in that church. A community vegetable garden for Etna residents was initiated by one of GPC's members, Tom Quigley. In addition, children in our congregation helped to collect food that members brought to the services on the second Sunday of each month. The food and money were given to the Food Pantry.
In March 2012, Pastor Mike accepted a call to serve as the senior pastor of Fourth Presbyterian Church in Greenville, South Carolina and his resignation was accepted with regret at a subsequent GPC congregational meeting. His last Sunday leading worship at GPC was April 22, 2012.
---
Rev. Dr. Trent A. Hancock (2013-2021)


Under the leadership of Pastor Trent, we undertook some long-overdue projects to upgrade the facilities on our campus. The largest of those projects was a major renovation of the church organ that was spearheaded by Justin Weilnau, who joined us as our new organist / choir director after the departure of Howard Moser. We were able to finance the project entirely using proceeds from our investment funds. During the project, the console and pipes were removed by the Austin Organ Company, taken to their service center, restored with new wiring and electronic controls, cleaned, and finally returned and reinstalled. We celebrated the upgraded organ with a series of dedicatory concerts.
Other projects during this time included major renovations to the Early Learning Center, to our upstairs kitchenette, to our choir room, and to the bathroom adjacent to the pastor's office. We also replaced the church's front sign, the paraments in the sanctuary, our hymnals, and a number of trees that had fallen into ill health.
During Pastor Trent's time here, we also began two ongoing community service projects: the Neighborhood Table ministry in partnership with the Roots of Faith organization in Sharpsburg, and our Food Distribution ministry in cooperation with Giant Eagle, the Bread of Life Food Pantry, and other community food banks. Both of those ministries have helped our neighbors in food insecure areas, and have helped us to draw closer to God and one another.
Some GPC members also participated in adult mission trips through a coalition of local churches called the Presbyterian Project. And our deacons continued their good work in the community with their annual Deacons Festival and Fill-a-Truck projects.
GPC adults were also encouraged to grow spiritually through Wednesday evening Bible studies led by Pastor Trent and Sunday School classes led by a variety of speakers. We also enjoyed fellowship activities like Scotch Doubles Bowling and Bunco Nights. To better share information about these activities, GPC introduced a new weekly e-newsletter, the Tuesday Tidings, and made improvements to our Facebook page and monthly Spirit of the Glen newsletter.
We also worked hard on our children's ministries during this time. Programs included Sunday School classes, Christmas pageants, Date Nights (a monthly night of kids' activities that allowed their parents to get a few blessed hours of R&R), and a resumption of Vacation Bible School in 2019.
Toward the end of Pastor Trent's time at GPC, the COVID-19 pandemic negatively affected our ability to meet for worship and other church activities. We adapted by posting recorded worship services on YouTube and by using the Zoom videoconferencing app to hold meetings and teach weekly Sunday School classes. We also started to make greater use of our new online donation portal. The Early Learning Center weathered the storm with the help of several government grants and forgivable loans.
In June 2021, Pastor Trent accepted a new call to serve as the interim pastor of Beulah Presbyterian Church. His last Sunday leading worship at GPC was July 11, 2021.