Pastor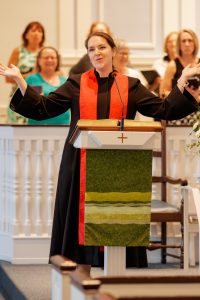 Our pastor is the Rev. Emily C. Cooper.
Emily graduated from Westminster College in 2004 with a B.A. in Religion. After graduation, she worked at PNC Bank as a branch manager, business analyst, and assistant vice president. But Emily felt called to ministry, so she began attending Pittsburgh Theological Seminary. While in seminary, Emily served as director of Children and Family Ministries at Elfinwild Presbyterian Church. She completed her Masters of Divinity in 2019 and was ordained that same year.
Since then, Emily has served as pastor at Covenant Community Presbyterian Church in Scott Township and most recently at Heritage Presbyterian Church in Franklin Park.
Emily and her husband Jason have lived in Shaler for 10 years. They have a 9-year-old son, Robby.