Class – "Finding Jesus in the Psalms"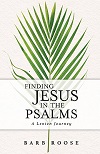 Sunday mornings through Easter
9:30 to 10:15 AM in the church parlor
During the season of Lent, our Sunday morning adult class will be using the book study Finding Jesus in the Psalms by Barb Roose.  
Barb is a speaker and author who is passionate about teaching women to live beautifully strong and courageous so that they experience God's great adventure of faith and purpose for their lives.
Since 2005, Barb has been speaking to audiences in the US and abroad at women's conferences and events, including national platforms such as UMC Leadership Institute, Proverbs 31 She Speaks Conference, and the Aspire Women's Events National Tour.
She's the author of multiple books and Bible studies including Surrendered: Letting Go and Living Like Jesus and Joshua: Winning the Worry Battle.
Here is a short video in which Barb describes the book study: