Fill-a-Truck Food Drive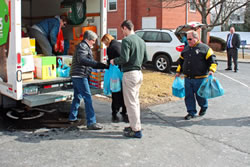 On Sunday, April 2, we will be having our annual Fill-a-Truck Food Drive for the benefit of the Bread of Life Food Pantry in Etna.
We will receive your donations under the Pennsylvania Avenue side portico from 8:00 AM to 10:30 AM and again between 11:30 AM and noon. During our worship service (10:30 AM to 11:30 AM), you may drop off your items in the designated boxes.
We are asking our members, neighbors, and friends in the community to bring boxes or bags of nonperishable food, home, and hygiene products to the church that morning.  Click here for a list of items that the Bread of Life Food Pantry is short on right now.
If you would like to make a monetary donation instead, that's OK too.  You may make your donation in any of the following ways:
By mail.  Our address is Glenshaw Presbyterian Church, 300 Glenn Avenue, Glenshaw, PA 15116.  Please designate "Bread of Life (BOL) Food Pantry" in the memo line of your check.
By placing your monetary donation in the offering plate before or after our 10:30 AM worship service
By giving a cash donation at the truck
Thanks once again to the Deacons for spearheading this annual event.  For more information, please call the church office at 412-486-8400.  Thank you for your generous support.