Belle Voci Concert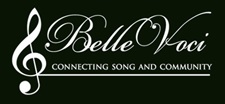 GPC will be hosting a choral concert by Belle Voci on Sunday, December 3 at 3:00 PM.
Belle Voci is a community-based intergenerational women's choir that performs an eclectic repertoire of wide-ranging styles, showcasing the performance practices of the music's origin. Founded in the fall of 2012 by Craig G. Cannon, Belle Voci is currently operating in its 12th concert season.
Tickets are $25 and can be purchased at the door or from their website — www.bellevocipgh.com.