In-Person Worship Guidelines for the COVID-19 Pandemic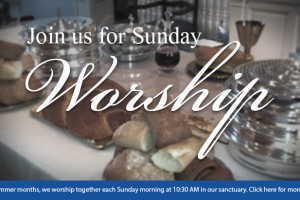 We have resumed our in-person worship services. We meet each Sunday morning at 10:30 AM in the sanctuary. The 8:30 AM worship service has been temporarily suspended.
If you are not feeling well or are simply not ready yet to be with groups of people, we encourage you to stay home for now. We will continue to record the worship service. The recording will be made available from our Worship page as soon as possible following the conclusion of the service.
If you do plan to join us for worship on Sunday, please read the following guidelines carefully.
Love Your Neighbor, Please Wear a Mask!
We ask that everyone wear a mask and sanitize your hands before entering the church. If you are ill, or have a cough, we ask that you remain at home.
Arrival
When you arrive, you will enter through the Main Entrance (handicap ramp). This is the only entrance that will be open. You will be met by a greeter, who will check to see that you are wearing a mask, and who can answer any questions you might have. Doors will be propped open to limit the surfaces that we need to touch.
Restrooms
The restrooms near the Main Entrance will be available, but we ask that, if possible, you refrain from using the restrooms during your visit to the church. A restroom attendant will be available to sanitize the restrooms after use.
Entering the Sanctuary
When you enter the sanctuary, you will see that open seating has been identified in alternate pews. You may sit with your family, but we ask that you socially distance from others. As you take your seat, you will find a simplified bulletin placed on the pew – this will be an indication of where to sit. Bibles, hymnals, and the fellowship pad have been removed.
What to Expect during Worship
We ask that you keep your mask on during worship. Pastor Hancock will be wearing a mask, but will remove it while leading worship from the pulpit.
The service will be a somewhat simplified version of what we are accustomed to.
We will speak some unison responses, share our joys and concerns, but we will not – at least at first – be able to sing, as this creates a higher risk of spreading the virus.
We will pass the peace – verbally – without moving around the sanctuary.
We will not pass the plates for the offering, but offering plates will be available at the narthex entrance to the sanctuary.
Children's activities have been removed temporarily, so we ask that parents provide activities for your children, as needed.
Leaving the Sanctuary
At the conclusion of worship, you will be dismissed by section and exit the building through the Main Entrance or the front doors of the church, both of which will be open. We encourage you to visit with one another outside in these open spaces, keeping appropriate social distance.
We thank you, in advance, for your patience and understanding as we learn how best to make accommodations for worship. We will, no doubt, learn some things and make some adjustments along the way.
If you have any questions, please contact Pastor Hancock.