In-Person Worship Guidelines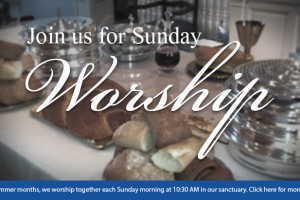 We meet for in-person worship services each Sunday morning at 10:30 AM in the sanctuary.
As we continue to adjust to the ongoing and ever-changing realities of the COVID-19 pandemic, we ask that those in worship with us observe the following guidelines:
Arrival
When you arrive, you will enter through the Main Entrance adjacent to the handicap ramp. This is the only entrance that will be open. You will be met by a greeter who can answer any questions you might have.
Entering the Sanctuary
When you enter the sanctuary, please pick up a worship bulletin at the rear doors. We do not require that you wear a face covering when attending GPC worship services, but you may do so if you choose to.
Also, to continue to maintain social distancing, seating will only be made available in every other pew.
What to Expect during Worship
We are continuing to pass the peace – verbally – without moving around the sanctuary.

We are not passing the offering plates during worship, but they will be available at the narthex entrance to the sanctuary, for those who do not contribute online or by mail.
On Communion Sundays, we will continue to partake in the sanctuary using individually-packaged communion kits.
Our KidZone Activity bags are available for our younger worshippers.
Leaving the Sanctuary
At the conclusion of worship, you may exit the building via any of the sanctuary exits.
We are so happy to see so many of our members and friends returning to GPC for in-person worship and other church activities after having received their vaccinations and boosters. But we also thank you, in advance, for your patience and understanding as we seek the best path for a return to normal at GPC.
Finally, as newer, more easily transmitted COVID variants continue to arrive, please do not attend worship in person if you have any cold or flu symptoms or have been around someone who has tested positive for COVID-19 in the last week. We will continue to release an audio recording of each Sunday's worship service on the Worship Audio Archive page of this website as soon as possible after the conclusion of the service.
If you have any questions, please contact the church office or any member of the church session.