Christmas Bake Sale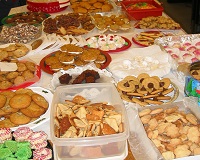 The GPC Deacons are planning to hold a Christmas Bake Sale on Sunday, December 10.  Proceeds from this fundraiser will go to replace our church's AED system.  The AED is a portable medical device designed to analyze a collapsed person's heart rhythm and deliver an electric shock, when needed, to restore a normal heart beat. Our AED's expiration date is in the early spring, so we will be replacing this one in a few months.
We are calling all our expert bakers who would love to share their holiday culinary masterpieces with the congregation.  Please sign up at the kiosk in the church lobby.  If you have any questions, you can contact Darlene Hills at 412-486-8076 or by e-mail.
Thank you in advance for your support.