Toy Drive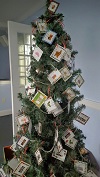 In this challenging pandemic time, the work of the deacons continues! In lieu of our annual Toy Drive, the Bread of Life Food Pantry has asked us instead to collect gift cards to distribute to families of the food bank.  This will assist these families in shopping for their children for Christmas gifts.
Please consider a monetary gift of any amount or gift cards to stores like Five Below, Kohl's or Walmart. There will be a collection area near the narthex for the gift cards, as well as for checks made out to GPC with "BOL toy collection" on the memo line.
To give the pantry appropriate distribution time, and families shopping time,  please make your donations by Sunday, November 29.
This is your opportunity to significantly change a family's celebration with bringing Christmas joy.  Your gifts may be the only gifts under these families' Christmas trees. We, along with other area churches, help support our community for this initiative.  Thank you for opening your heart as we celebrate this most precious season!