The Neighborhood Table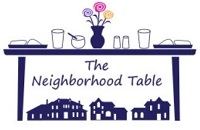 The Neighborhood Table, founded and organized as a part of the Roots of Faith Ministry, is a free community dinner in Sharpsburg. It is not a soup kitchen or a handout, but a place for the Sharpsburg community to gather to support, encourage, and serve one another in the name of Jesus Christ. For the past 8 years, GPC members and friends have served fried chicken dinners there to approximately 100-150 people on the second Thursday of every month.
We are thankful for the many people who are working together to help feed hungry people in our local communities. The Giant Eagle Express in Harmarville is excited to be working with GPC in this ministry and to know that their food is helping others. GPC in turn is thankful to our team leaders, our many volunteers, the GPC Deacons, and the GPC Mission and Outreach Ministry who gave monetary donations.
Finally, we are thankful that God is guiding us.  Being a Christian brings with it the duty and the privilege of a lifetime of service. Service allows us to practice doing what Jesus would do. It connects us to those we serve and gives us a kind of satisfaction that self-interest can never offer.
Our next GPC mission service event at the Neighborhood Table will be held on Thursday, October 12 from 5:30 to 7:15 PM.  How can you help? Consider volunteering as a server.  We need about 12 to 16 people each month to help with the dinner. We welcome all who are interested in greeting, meeting, serving, and eating with our neighbors in Sharpsburg.
If you have any questions or would like to volunteer, please contact Larry or Cindy Bock, Henry or Diana Long, or Pastor Emily.  Thanks!