Hanging of the Greens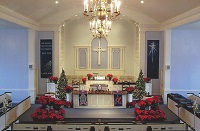 It is time to decorate our church for the seasons of Advent and Christmas.  We will meet on Saturday, November 28 at 9:30 AM in the narthex. We will break up into small groups to decorate various areas of the church with trees, garlands, wreaths and candles.  With enough helping hands, we should be done in about an hour.
Although we cannot do all of the extra things we normally do during our traditional Hanging of the Greens, it will still be a fun and meaningful time together as we prepare to celebrate the coming of our Lord and Savior.
Please RSVP to Jennifer Guffey in the church office by Monday, November 23 if you are willing and able to volunteer for this event.  Thanks for your help!