Category Archives:
Worship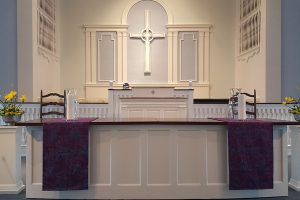 Because we are unable to gather to worship together as a congregation, we invite you to worship at home on Sunday, March 29 using the guided liturgy provided in the following link:
Household Worship – Sunday, March 29
You can meet as a family, or with a friend over the phone, to pray, to read and meditate on scripture, and to respond to God's Word with an offering of your gifts.
Household worship is nothing new. The earliest Christian communities gathered in each other's homes long before there were any established churches.
Here's what the Presbyterian Church (U.S.A.) Book of Order says about Household Worship:
We respond to God's grace in the context of personal relationships, particularly when Christians who live together worship together. Opportunities for household or family worship include: sabbath-keeping and rhythms of daily prayer; Bible reading, study, or memorization; prayers before meals; singing hymns, psalms, and spiritual songs; and expressions of giving, sharing, and service to others.
Here are two supplemental links: