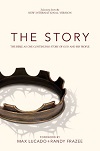 Sunday mornings – 9:30 to 10:15 AM – Church Parlor and via Zoom
We are doing a Bible study called The Story – The Bible as One Continuing Story of God and His People. Aided by a DVD and study guide by best-selling Christian authors Max Lucado and Randy Frazee, we will come to a better understanding of the events, characters, and teachings of the Bible.
According to Lucado and Frazee, the Bible "tells the grandest, most compelling story of all time: the story of a true God who loves his children, who established for them a way of salvation and provided a route to eternity. Each story … reveals the God of grace — the God who speaks; the God who acts; the God who listens; the God whose love for his people culminated in his sacrifice of Jesus, his only Son, to atone for the sins of humanity."
Please join us!