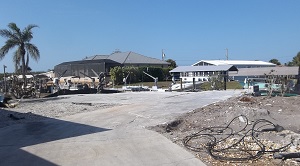 by Deb Vita
On the week of March 6, nine people from churches in Pittsburgh and another five from a church from Lancaster, PA worked with Reach Global to help folks in Fort Myers, Florida repair their storm-damaged homes. We were working in a senior community where there was different levels of damage. There were vacant lots, homes that look like nothing had happened, and home at various stages of being repaired.
I worked on a home in which drywall had just been installed and the first layer of plaster had been done. My job was to go around and add a second coat and then a third. After that, primer was added. The other group that was with us had men that had construction knowledge, so they installed kitchen cabinets. After lunch, we would do a prayer walk through the community as we went back to the work sites. Even though the work on the homes was important, we were always reminded that showing God's love to the homeowners was the most important job. If we had to sit and listen, comfort, or just show support, that was just as important as the physical work that was being done.
The people we met were all very friendly and the homeowners were appreciative. We met some very interesting people. It was a pleasant week and everyone got along as if we had always known each other. I lost count of how many trips I have been on and each one is a new experience. I feel blessed that I can live out my faith by showing God's love and helping where it is needed. My experiences have always been positive and would suggest if you have time to volunteer anywhere it would be well worth your while.