Upcoming Events for Children and Youth
November Date Night
Our next Date Night at GPC will be held on Friday, November 15 from 6:00 to 8:30 PM. It will feature a Thanksgiving theme, including a turkey dinner with the fixings! Online registration is now open. Click here to sign up today!
---
Christmas Pageant
The children and youth of GPC will present the pageant Have a Little Faith on Sunday, December 22 during the 10:30 AM worship service. Here is the rehearsal schedule:
Wednesday 12/4 – 6:00 PM – Dinner & Rehearsal in King's Hall
Wednesday 12/11 – 6:00 PM – Dinner & Rehearsal in King's Hall
Sunday 12/15 – 9:30 AM – Rehearsal during Sunday School Hour
Wednesday 12/18 – 6:00 PM – Dinner in King's Hall, Rehearsal in Sanctuary
Sunday 12/22 – 9:30 AM – Dress Rehearsal in Sanctuary
In order to help plan for this year's pageant, we are asking everyone to let us know they are interested in participating. Please click here to let us know that your family is interested.
---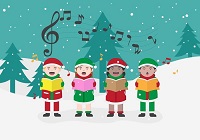 Visit to DeHaven Court
The children and youth of GPC have been invited to visit DeHaven Court in Glenshaw for an evening of fellowship with the residents. Events will include caroling and a preview of this year's Christmas Pageant. More information will be available about this trip in the coming weeks. Stay tuned!
---
Volunteer Today!
Volunteers are essential to our ministry being successful. We are grateful to the many people who have volunteered their time already, but we are always excited to welcome new people to our program. If you would like to view current opportunities to volunteer, please check out our online sign-up sheet. You can also contact to learn more.