Toys for Kids Tree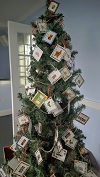 Throughout the month of November, the deacons will sponsor a Toys for Kids Tree to collect toys for the "Lunch with Santa" that the Bread of Life Food Pantry will be hosting for the children of the pantry's clients and the children involved with the kids' programs at Calvert Memorial Presbyterian Church.
Please help us by taking a tag off the tree in the narthex, buying a present, and bringing it unwrapped with the tag to the church by the end of November where they can be placed in the decorated boxes by the tree. The tags on the tree indicate a suggested gift. However, we are also accepting monetary donations, $5.00 gift cards to places like Five Below, Plato's Closet, McDonald's, Burger King, and Dunkin' Donuts, and wrapping paper, bows, and tape. All gifts, no matter how small, are appreciated.
The deacons thank you for participating in this toy drive to help make this Christmas better for these children.