Prayer Shawl Ministry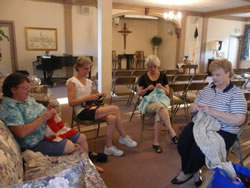 Our prayer shawl ministry at GPC knits and crochets prayer shawls, lap robes, and baby blankets, then gives them to those in need of comfort and solace, as well as in celebration and joy. The shawl maker begins with prayers and blessings for the recipient. Upon completion, a final blessing is offered before the shawl is sent on its way.
Prayer shawls can be offered during difficult and joyful times, i.e., illness and recovery, in times of stress; after a loss, birthday, marriage, new baby, or graduation.
Here are a few ways you could be involved in this ministry:
meeting monthly at the church to share patterns and yarn, to enjoy fellowship while knitting / crocheting, and to bless the completed shawls
making shawls in the comfort of your own home
donating new yarn
donating money to buy yarn for those who will knit / crochet
If you would like to be part of this ministry, please call Chris Hack at 412-486-9547 or drop her an .