New Hymnal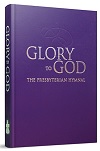 Dear Friends,
At their meeting on August 7, the GPC session approved Glory to God as our new hymnal. Our current hymnal, The Presbyterian Hymnal, was released in 1990 and purchased by GPC several years later. Glory to God was published in 2013 and has been widely adopted throughout the Presbyterian Church (U.S.A.). People love this hymnal!
A few highlights:
Glory to God includes more than 800 hymns (our current hymnal has about 600). Advances in paper and printing, and the use of melody lines for many hymns, makes it more compact and easier to use.
Glory to God includes 485 "new" hymns (including many old favorites that were not available in The Presbyterian Hymnal.) In all, about 60% of the hymns in The Presbyterian Hymnal are also found in Glory to God.
Glory to God includes familiar hymns, contemporary hymns, and a variety of styles including praise songs, Taize chants, psalm settings, and hymns from around the world.
With our new hymnal we will be able to keep singing all of our favorites, recover some long-lost treasures, and learn some great new hymns, some of which we have already experienced in worship.
Why do we need a new hymnal?
Psalm 96 says it best: "Sing to the Lord a New Song." As I often say – even Amazing Grace was once a new hymn (as were all of our favorites). A hymnal has been compared to a family picture album, new pages (and volumes) are added as the family grows. I think that captures the spirit of Glory to God quite well.
What will happen to the old hymnals?
We will make hymnals available to the congregation (take many as you want, we have a ton!). We will do our best to identify hymnals that were given in memory or honor of loved ones, so you can take that specific volume if you choose. Those that are left will be donated to a sister church.
How are we paying for the new hymnal?
Glory to God will be purchased using Memorial Funds, representing gifts of many both within and beyond the church made in memory of those saints who have gone before us. If you are interested in dedicating a hymnal, we will have an opportunity for you to do so this fall. Look for more information soon.
I am excited about introducing you to Glory to God this fall. It will be wonderful to sing some great new hymns (and plenty of familiar ones!), lifted up by our spectacular "new" organ. To learn more about the hymnal join me during Education Hour this September!
Thanks be to God!
Peace be with you,