Food Distribution Ministry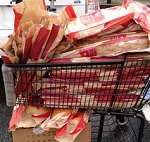 How a GPC outreach ministry supports six local food pantries
Each week, our food distribution ministry delivers food to six local food pantries — North Hills Community Outreach (Allison Park, Millvale, Bellevue, Sharpsburg), the Lighthouse Foundation in Butler, and the Bread of Life Food Pantry in Etna. This is made possible because of food donations from the Giant Eagle Express in Harmarville and a team of dedicated drivers from GPC and the local community.
How this outreach ministry started
This outreach ministry started when we contacted the Giant Eagle Express in Harmarville to see if we could purchase food for our monthly Neighborhood Table dinner at the Roots of Faith in Sharpsburg. As we were making plans for our dinners, Giant Eagle asked if we could make good use of their unused food that they had to throw away. We agreed and, from there, this outreach ministry took off.
The amount of donated food was a lot!
Giant Eagle said that they could donate about $6,000 worth of bread and bakery foods per month and $500 of unused frozen meat each week. This was wonderful, but the Bread of Life Food Pantry in Etna and our GPC freezer and refrigerator did not have enough storage for that amount of food. We then contacted North Hills Community Outreach and the Lighthouse Foundation, and they were delighted to receive the extra food for their food pantries.
How we get the food from Giant Eagle Express to the food pantries
GPC organized a team of dedicated drivers from our congregation and from the local community. The drivers pick up the unused bread and baked goods daily, and the unused frozen meat once a week from Giant Eagle Express. The donated food is first taken to the GPC freezer and refrigerator. From there, the drivers take food to North Hills Community Outreach on Mondays, the Lighthouse on Wednesdays, and the Bread of Life Food Pantry on Thursdays. By having many drivers, the goal is to limit the time needed per driver to about one and a half hours per week.
How can you participate?
We can always use more drivers – regularly scheduled drivers or substitute drivers. We invite you to join them in this important outreach ministry to help feed brothers and sisters in our local communities. Being a Christian brings with it the duty and the privilege of a lifetime of service.
To learn more, or to sign up to be a dedicated driver
Contact one of our dedicated drivers: Jimmy Martin, Bob Crynack, Mark Held, Chick Pfeiffer, Henry Long, Dulcie Parker, Ken Miller, Ray Hack, Tom Tabor, Jane Hackett, or Duane McDonough.