Fill-a-Truck Food Drive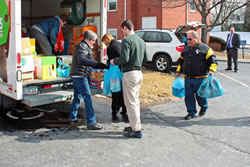 On Sunday, April 14, the GPC deacons will be having our annual Fill-a-Truck food drive for the benefit of the Bread of Life Food Pantry in Etna. We are asking our members, neighbors, and friends in the community to bring boxes of nonperishable food items to the church that morning. A truck will be parked on the Pennsylvania Avenue side of the building from 8:00 to 11:00 AM to accept your donations.
Here is a list of suggested items:
Side dishes (with noodles or rice)
Side dishes with potatoes
Ramen Noodles
Pudding and Jello (premade or to be made)
Boxes of Crackers
Salad dressing and ketchup
Boxed stuffing
Boxed mac and cheese
Boxed instant potatoes
Jelly – any flavor
Canned whole potatoes
Boxed meals (like Hamburger Helper)
Jars of spaghetti sauce
Canned chili or stew
Broth and gravy (chicken, turkey, and beef)
Large bottles of juice
Cake and brownie mixes
Pancake mix and syrup
Bags of flour and sugar
Cooking oil
Cereal
Tuna fish
Toilet paper and tissues
Paper towels
Baby diapers
If you would like to make a cash donation instead, checks can be made payable to "Glenshaw Presbyterian Church" with "BOL Food Pantry" in the memo line.
For more information, please contact or the church office. Thank you for your generous support.