Christmas Cookie Walk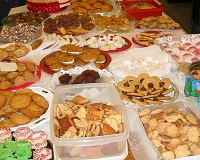 The GPC Deacons are planning to hold a Christmas Cookie Walk fundraiser on Sunday, December 22.  Proceeds from this fundraiser will go to Langley Hoyt's Young Adult Volunteer program in Washington DC.
We are calling all our expert bakers who would love to share their holiday culinary masterpieces with the congregation.  To coordinate the donation of these sweet treats most efficiently, please contact Darlene Hills by phone (412-486-8076) or by .
Thank you in advance for your support.