Choir Room Renovation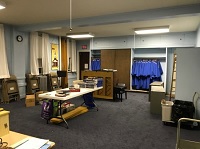 One of the many projects that occurred at GPC over the summer was a renovation of the choir room and Justin's office.
The project began by going through the copious amounts of music that had accumulated over the 90 years of music making at GPC. Similarly, many other instruments, clothing, and other items had accumulated. The choir helped clean up and clear out old and no longer needed items. This also aided in the cataloging and organization of the church's music library.
After the initial clean up, Ray Hack went to work getting the room ready for paint. First, the closet that housed the children's choir robes was demolished and the wall patched. Then the adult choir robe closets were re-faced with folding doors. All the old filing cabinets were removed as was the choir folder shelf. Then the room was painted, including all the trim and doors. New bookshelves were installed, and a new choir folder shelf built. Finally, the carpet was removed and the old rubber padding that stuck to the floor scraped off. The result is a much more spacious and open room with a wonderful acoustic.
Many thanks go out to those that have helped make this possible. A special thank you to Ray Hack for the great many hours he put in to the project, including planning and construction. It will be a wonderful room in which to make music for years to come.