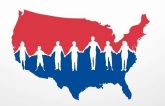 February 2, 9, and 16
9:30 to 10:15 AM – Church Parlor
What happened to civility in public discourse? When everyone is screaming at each other, it becomes difficult to conceive of a different, better way of thinking about politics and public debate.
This class, led by Pastor Hancock, considers ways to think about political discussion between people who disagree in light of the four virtues of civility and the principles of civility found in Christianity.