Youth Sunday School and Youth Connection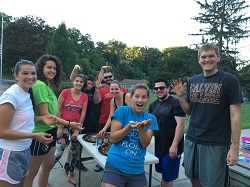 During the Sunday School hour (9:30 – 10:20 AM) each Sunday morning from September through May, our high-school-age youth engage in a variety of learning opportunities. Sometimes they participate in an Adult Education class, sometimes they engage in their own time of study and prayer in the youth room, and sometimes they head out for breakfast with Annamarie and share with one another the ways God's Word has been informing our lives.
Also, each Sunday evening from September through May, the youth get together for Youth Connection.  After kicking off the program year with the traditional Messy Games Night, they meet from 6:30 – 8:30 PM to spend time together doing homework, playing games, and talking about what God is doing in our lives, the life of the church, and the world.
If you have any questions about Youth Sunday School and Youth Connection, please contact Annamarie Groenenboom.  Hope to see you there!