Sunday School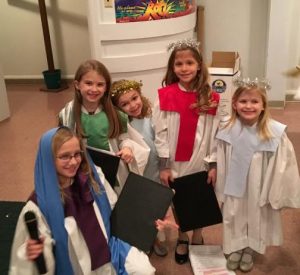 During the months of September through May, children from the age of 4 up through grade 5 gather in King's Hall during the Education Hour (9:30 – 10:20 AM) each Sunday morning.
Here are some highlights from our 2016-17 Sunday School year:
During the season of Advent, the children worked side-by-side with the youth on the play New Star, which they performed at the early Christmas Eve service.
In January and early February, the children learned about Samson, Ruth, Samuel, and David. The children made picture books to encapsulate what they learned.
During the six-week season of Lent, the children learned about Jesus and what happened leading up to and after the crucifixion, and they did an Easter project.
In May, the children learned about the Holy Spirit and prepared for Pentecost.