Sunday School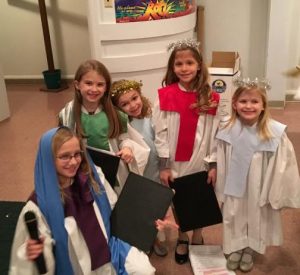 During the months of September through May, children from the age of 4 up through grade 5 gather in King's Hall during the Education Hour (9:30 – 10:20 AM) each Sunday morning.
Our Sunday School program is unit-driven, with six segments focused on different subjects throughout the church year. Our first unit's theme was Wonder About God's Never Ending Love for Creation. Artwork from this unit is on display on the bulletin board just inside the main church entrance.
Our current unit is Wonder about God's Growing Family. In this unit, the children are learning about Abraham, Sarah, Isaac, Rebecca and Jacob and God's promises to them.
Beginning November 19, we will be preparing for our Christmas Pageant which will be performed on Sunday, December 24 at the 10:30 AM worship service. All children of the church are encouraged to be a part of this event.
If you have any questions, contact .