Sunday School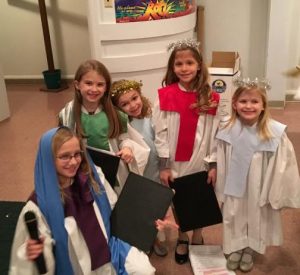 During the months of September through May, children from the age of 4 up through grade 5 gather in King's Hall during the Education Hour (9:30 – 10:20 AM) each Sunday morning.
Our Sunday School program is unit-driven, with six segments focused on different subjects throughout the church year. Starting the Sunday after Easter, we will wrap up the church year with our last two units: Wonder about God's Surprising Protection and Wonder about Jesus' Loving Care. Other activities taking place during April and May include an Earth Care presentation on Sunday, April 22 and an end-of-year event — more details to come.
Our volunteers have made this a special year for the children. We have watched them grow spiritually and develop great friendships with one another and with the volunteers.
If you have any questions, contact .