Bunco Night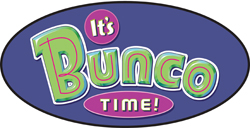 The Adult Fellowship Committee is holding a Bunco Night on Friday, March 9 at 6:30 PM in the church parlor.  All members and friends of GPC are welcome.
For those of you unfamiliar with Bunco, it's a dice game that is easy to learn and fun to play.  Any of our usual "gamers" can attest to what a good time the past Bunco Nights have been.
Beverages will be provided, but we ask that you bring a finger food to share – snacks, appetizers, something sweet.
We'd like to have prizes, so we are asking participants to bring an item for our prize table. If you have something you would like to re-gift, maybe an unopened extra something you have at home or a "white elephant" gift, wrap it or gift-bag it and bring it along.
There are three ways to RSVP:
Sign-up sheet in narthex after Sunday worship services.
Email .
Call the Richardsons at 412-492-9876.
Please join us for some great fun and fellowship.