Saying Farewell to Justin Weilnau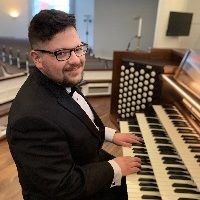 Earlier this year, we announced that Justin Weilnau, our current Director of Music and Organist, will be leaving GPC to begin his doctoral studies at the Peabody Conservatory of Music. Justin's last day at GPC will be September 30.
If you wish to contribute to a gift of thanks for Justin, you may do so by sending a check to GPC with "gift for Justin" in the memo or make an online contribution (also indicating that it is a "gift for Justin").
If you have questions, please contact Lois Cridge.