Our New Director of Music and Organist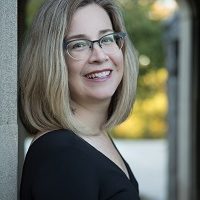 We are pleased to welcome Corinne Fink-Adkins as our new Director of Music and Organist. Corinne will begin her work with us on October 1.
Corinne earned her Bachelor of Music in Piano Performance from Houghton College and her Masters in Accompanying (Piano & Organ) from East Carolina University.  A member of the American Guild of Organists (AGO), she has her college certificate (CAGO). As an organist and music director, Corinne has been active in church work for over 30 years. As a professional vocal coach/accompanist, she has performed with hundreds of vocalists, including international opera singers and Broadway stars. Locally, Corinne was on staff as a performance coach / accompanist for 16 years at Duquesne University and has worked for the Pittsburgh CLO (Gallery of Heroes, CLO Academy, summer touring musicals) and Point Park Dance Academy.  During that time, she has also maintained a private piano studio, teaching pianists of all levels. Corinne enjoys occasionally being an adjudicator for various local piano competitions.
Corrine has also been a soloist with orchestras and performed as a member of the orchestra with the Brevard Faculty Orchestra, Erie Philharmonic, Westmoreland Symphony, and Wheeling Symphony. She toured Italy as the pianist of The Point Chamber Orchestra in 2006. In 2015, Corinne directed The Women's Chamber Choir in England and France in conjunction with the Pittsburgh Youth Chamber Orchestra.
Currently, Corinne is Adjunct Professor of Piano at Washington and Jefferson College. Before the COVID-19 pandemic, she accompanied the W&J College Choir, Belle Voci Choir, Fox Chapel High School Choir, and Shaler Area High School Choir.  Corinne and her sister, Alaine Fink, perform as The Fink Sisters. Starting in 2017, they combined their musical talents as a piano/organ duo and perform concerts utilizing 4 hands on one or both instruments.
She is very excited to begin her new position at Glenshaw Presbyterian Church, and is anxiously awaiting the return of choirs and performing with fellow musicians.  Corinne, her husband, Bryan, their 9 year old son, Blair, and their dog, Chewy, happily live in Glenshaw, PA.