Organ Project

Our organ was installed in 1928 by Austin Organs. The original instrument comprised 26 speaking stops split across four divisions (great, choir, swell, and pedal). In 1967, almost 40 years after the initial construction of the organ, the church contracted Austin Organs to rebuild and tonally update the organ. The organ was removed and completely re-designed — only about 400 pipes of the original 1,662 were kept. The chests (woodwork that the pipes sit on and which contain all the actions allowing the pipes to speak) were rebuilt at this time. By the end of 1973, the church's organ was the organ we now hear each week. It comprises 31 ranks of pipes across the same four divisions. The current console is the original, built in 1928, with considerable updates made across the years.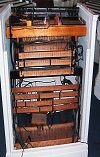 Our organ is now reaching its 90th birthday, and it is now 50 years since the last major rebuild was completed. As one might expect, our organ is starting to show its age. The actions of the organ (residing in the chests) are at the end of their life. Actions are built using leather, which has a typical lifespan of about 30 to 60 years depending on environmental factors.
In February, the session appointed a committee to study the short-term and long-term maintenance needs of the organ. After much work and research, the committee recommended Austin Organs to once again rebuild our church's organ. This project will involve rebuilding the chests of the organ, cleaning and re-voicing the pipework of the organ (retaining almost all of the current pipework), and a complete rebuild of the current console. The goal of this project is to return the organ to its 1928 settings and to restore the organ to like-new condition. In August, the session approved the recommendation of the committee and the funding of the project by use of the church's trust funds.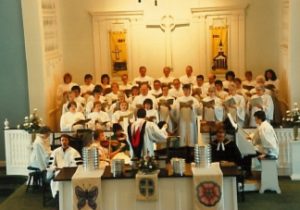 In the coming weeks, we urge you to ask questions of the organ committee (see below). A brochure that describes the history of the organ and outlines the upcoming project will also be available in the coming weeks. A congregational meeting will be held on Sunday, September 24 following the 10:30 AM worship service to approve the use of trust funds for this project.
Our organ has led our congregation in song for 90 years, and the ultimate goal of this project is to help ensure that it continues to lead our congregation for another 90 years to come.
The Organ Maintenance Committee:
Tom Tabor, Bonnie Giel, Peggy Ziegler, Justin Weilnau – Director of Music, Trent Hancock – Pastor