Deacons' Festival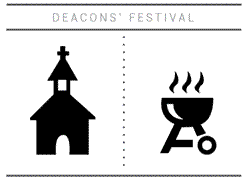 We're excited to announce that the annual Deacons' Festival will be held in King's Hall on Sunday, August 26 after our 10:30 worship service.  The cost is $5.00 — however, children 4 years of age and under are FREE!  The price includes a picnic lunch, dessert, and lots of fun and fellowship.
After lunch, we will have our annual auction to benefit the Deacons' work in the community.  In years past, auction items have included tickets to exciting events at the Pittsburgh Cultural Trust, Pirates tickets, museum events, and more. We can't wait to show you what's up for bid this year — and we always have room for more! If you have something you'd like to donate, please contact Laura Davidson at 412-213-3827 so she can add your item to our printed list of fabulous finds. Items should be delivered to the church by Sunday, August 19.
It's not just an afternoon of good food, fellowship and fun — it's also an important fundraiser for the Deacons. Don't miss it!