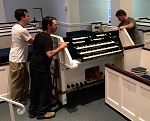 As the most recent step in our organ renovation project, representatives from Austin Organs came to GPC in late May to remove the organ and take it to their factory in Hartford, CT. Here are some pictures of the work they did that day:
In the factory, the console will be rebuilt, the pipes fixed and voiced, and final work on the pneumatics completed.
During the summer months, we will be using an Allen digital organ on loan from Austin Organs. We anticipate the return of our pipe instrument in September. After it returns, we can expect several months of "settling" and voicing to occur. As we look ahead, a rededication recital will be held in November. Stay tuned for more information on the re-dedication and other recitals on the organ during the next program year.
If you have any questions, or would like a more detailed explanation of the organ restoration process, please contact .