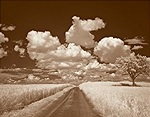 April 8, April 15, April 22, April 29, and May 6
9:30-10:15 AM in the parlor
Christians normally think of the future in terms of heaven, but the promised reality is far greater — a new heaven and a new earth. In these sessions, we will explore the full scope of what the Bible has to say about the world to come and the world that is. What hope does the Gospel hold for this present life, and in what ways does God intend for us to experience that hope as individuals and as a church? Join Pastor Hancock for this conversation about the mission of the church in light of the Good News of Easter.